Modern Edge Inspection Services
Modern Edge Inspections, LLC, offers professional commercial and home inspection services to all of Central Indiana. Our inspections are conducted with a meticulous attention to detail in order to provide the most accurate assessment possible. We encourage the buyer or seller to attend their inspection for a closer look—and we always welcome phone calls with any questions that you may have afterward. Our phone lines are open from 8 a.m. to 6 p.m every day of the week.
General Home Inspection
Our buyer's inspection is a thorough evaluation of any residential property's visible and readily accessible components. Thermal imaging is used as necessary to help us identify areas of moisture penetration inside the home as well as areas potentially contributing to energy inefficiency. A moisture meter may also be used to obtain a more accurate reading of moisture inside the home.
We inspect the following components:
Roof
Foundation & Crawl Space
Basement
Structural Components
Garage
Fireplace & Chimney
Driveways & Walkways
Deck
Exterior (cladding, doors, windows, soffits, fascias)
Interior (doors, windows, floors, walls, ceilings, stairs)
Attic, Insulation, & Ventilation
Electrical System
Plumbing System
Heating & Cooling Systems
Built-in Appliances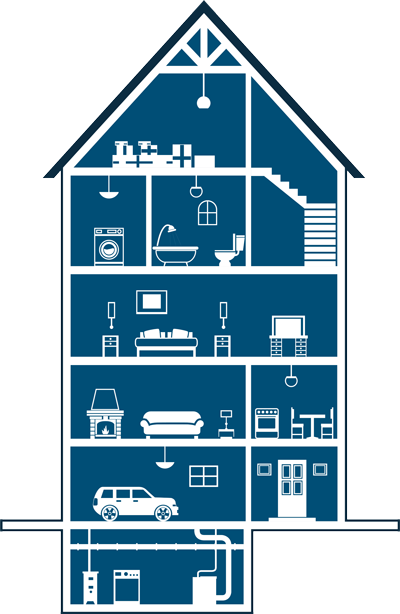 We also offer these services:

Commercial Property Inspection
Even with little to no experience inspecting Commercial Properties, many home inspectors are all too willing to inspect Commercial Buildings. This is one reason you need to be sure to ask for the truth about your inspector's history of inspecting Commercial Buildings. At Modern Edge Inspections, we can answer that question with confidence, as we have a great deal of experience inspecting Commercial Properties. This means we know exactly what to look for and how to handle the property, no matter the size of the commercial space. Our previous Commercial Property Inspections have included office buildings, retail spaces, warehouses, and more. We'll thoroughly assess the property for any defective components or potential safety issues that you need to know about before making your decision about an investment.

New Construction Inspection
Before the builder takes you on the final walkthrough of the property, we recommend scheduling a third-party inspection so that you can be confident in the safety and integrity of your new home. We'll assess the readily accessible structural components and mechanical systems, looking for any issues that may need to be officially addressed with the contractors before it's time for you to move in.
Re-Inspections
We're able to return to a property that we previously inspected to reevaluate components that were found to be defective. We'll carefully examine any changes that have been made to ensure that all repairs have been performed correctly and safely. We'll also make sure that no additional issues are present.

Radon Testing
Radon is a highly dangerous radioactive gas that is the second leading cause of lung cancer in the United States. It originates from the decomposition of certain types of soil and rock. Radon gas can enter a home through any cracks in the foundation or other structural components, creating a serious safety issue for residents. As radon is odorless and invisible, specialized equipment is required to test a home. We're fully equipped and qualified to test whether your current or prospective home is free from overly high levels of radon.

Refinance Inspections
When you're preparing to refinance a home, it's possible that your lender will require you to have the home inspected beforehand. We'll thoroughly inspect the entire property for any issues that could prove problematic for your prospective lender if you don't first arrange necessary repairs or maintenance.

Pre-Listing Inspection
This inspection is for individuals who are preparing to sell their home and would like a better idea of the property's condition before moving forward. We'll evaluate the condition of the home's readily accessible components, letting you know of any defects, safety issues, or areas that could benefit from routine maintenance. With this information, you'll be able to make improvements as you deem necessary, ensuring that you get the best offers on your home.

New Construction Phase Inspection
This inspection takes place at three different phases of a new construction project—foundation, pre-drywall, and once more prior to the final walkthrough. We'll check to make sure that there are no material defects or safety hazards that need to be addressed before the project continues, helping to keep construction on track with the proposed timeline and checking the builder's work for oversights that could become a liability.

Mold Inspection
This inspection will assess a home for the presence of mold and the moisture that facilitates its growth. We'll carefully check all readily accessible areas of the home for any indications of mold and advise you so that you can take whatever action is necessary to protect your current or prospective investment—as well as the health of any residents.

WDO/Termite Inspection
Wood-destroying organisms are a serious threat to the structural integrity of a home. Termites in particular inflict a staggering amount of damage to homes every single year. Before you commit to purchasing a home, we'll scope out the property for any signs of termite damage or ongoing infestations so that you can be sure that your investment is protected.

Well & Septic Inspections
Before buying a home, you need to make sure that the well and septic systems are in good condition and operating as they're meant to. We'll inspect the physical structure and mechanical components of each system to make sure that there are no damaged or dysfunctional parts that need to be worked on before you follow through with a purchase.

Water Testing
Access to clean water should always be a priority for prospective homebuyers. We're able to visit a property to take water samples from both the tap and well to send off for laboratory testing—so that you can be clued in as to whether or not any contaminants are present.
We're Here to Help
At Modern Edge Inspections, LLC, we're here to help you face one of the biggest financial decisions that you're likely to ever make. It's our goal to make sure that you don't negotiate the purchase of a home or commercial space without first being fully aware of its true condition. Contact us today to request an appointment.